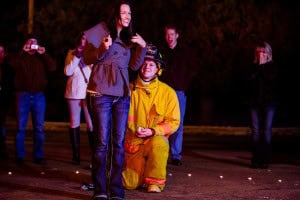 Engagement Photographer in La Crosse
This was such a sweet proposal, the gentleman called me up (knowing I am a Engagement Photographer in La Crosse) and asked me to be a part of his amazing surprise proposal for his beautiful girlfriend. The gentleman we will call Andy and now wife (we will call Sarah) are pictured above with key family members that were all a part of surprising her to get her to the fire station. Sarah was picked up by limo with a friend, traveled to different date locations to pick up significant people involved in their relationship at different date locations around the city of Winona, then finally to stop here, with two firetrucks with lights on and a kerosene soaked "Will you marry me" burning in front of a ring of candles. The biggest opportunity you will see in the succession of shots is that everyone else took shots that include his and her back, with the fire trucks in the background…no facial expressions, no emotion. I chose to brave the fire and shoot directly underneath it, then swoop back around to the back side to get her just as she turned back around. This allowed me to capture the moment in so many different ways. I feel that as a wedding photographer being on your feet is crucial to getting the shot…always be ready and swift! I got both the couples emotions as well as some amazing people that were a part of the proposal. I hope you enjoy the emotion as much as I do.
Another good point to make is that I had him mic'd up and had video cameras recording on tripods as well…I was able to play that back to them as in the rush of the moment they could not remember what was said and because of the growl of the fire trucks nobody else could either. This goes to point out that if you do not book a video package with me, get a wedding videographer, and not just a friend, get someone who knows what they are doing with appropriate equipment and talent or those moments may get lost! You would be surprised how many ask for it after!
Also these shots were taken at the Pickwick, MN firefighter station their wedding took place in Lake City, MN at the Jewel Golf Club http://jewelgolfclub.com/ I was very impressed with the grounds at the golf club as well, very hospitable! You will see other photos in Winona, MN as he is a Firefighter for the Pickwick Team.