Marah + Jon 5/19/2019
#vowtobevaillancourt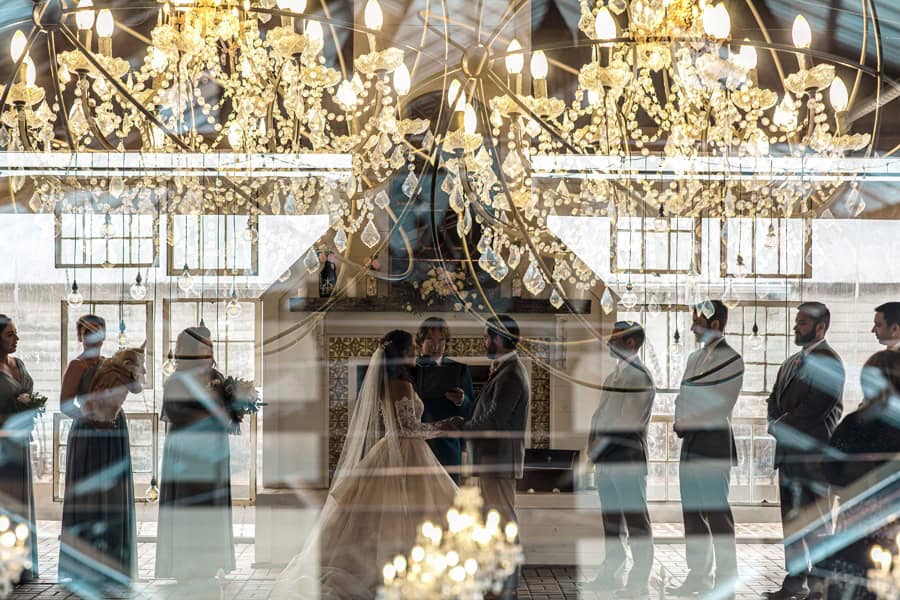 Less than 24 hours before Marah said "I Do" to her husband Jon, she was putting out fires…literally and figuratively.

The bride, who is a Firefighter (among many other things) found out a few months prior that her and a group of fellow Firefighters were set to take their Cert 1 Practical Exam on Saturday, May 18th. The day before her wedding.

A dedicated hard worker at heart, she didn't let that get in the way of changing any of her wedding plans, spending that Friday before the exam packing up decor, getting pedicures with her bridesmaids and hosting a cookie baking party at the couple's home in the evening.

However, minutes before one of the components of the test began that Saturday morning, Marah checked her phone and came to realize that the white roses she had ordered for the big day were not yet delivered…and wouldn't be until the Monday after the wedding…

Let us pause here to say that there is no such thing as a "perfect wedding". Sure, when couples reflect back sometimes they'll use the "p" word to describe the big day in hindsight…but as with any bigger event…there is bound to be something that does not go as planned. Can it seem like a burning crisis in the moment? Sure. Will the show go on? In our experience, it always has. Especially if the bride and groom have an amazing support system surrounding them – to metaphorically "put out the flames"(…see what I did there?).

As Marah's fellow Firefighters frantically alerted her that the test had begun, she rushed over to get into her gear as her mother got to work summoning the bridesmaids together via Facebook Messenger to come up with floral solutions. Within minutes, there were a combined list of options. Cut to an hour later…the flowers that were not going to arrive…magically arrived at Marah and Jon's doorstep.

Thankfully, the rose "flame" was put out, and so was the blazing fire that was part of Marah's Cert 1 Practical Exam. She passed the exam and got back in time to shower and prepare for the Rehearsal Dinner, which was happening at the couple's home that evening.

Marah and Jon's families, bridesmaids and groomsmen gathered together, surrounding the couple with love on the eve of their wedding day. Marah wore a beautiful long white lace dress paired with a crown made from some greenery, and the bridesmaids poked fun at how Jon had asked Marah if that was her wedding gown (as he was avoiding seeing it prior her walking down the aisle). The wedding party ran through a brief rehearsal, went over the final agenda, and exchanged laughs and hugs. The bride's grandmother expressed her disappointment in Wisconsin sweet tea, and the Wisconsinites in attendance swiftly recommended she try a Wisconsin classic, cheese curds. As the get-together winded down, Marah stood in the kitchen, chatting with friends and family, and the reality of soon becoming Jon's wife struck her with raw emotion. Tears fell from her eyes as she smiled, both Jon's twin brother Charles and Marah's mother exchanging hugs with the bride-to-be. Marah humbly expressed her gratitude for having both Jon and their loved ones; and excitement (yet disbelief) that the day had arrived so quickly! It was a heartwarming moment for everyone present. Marah and Jon shared their last kiss as a non-married dou, and Jon left with his groomsmen to head to Pepin, Wisconsin, where the wedding would take place the next day.

The next morning, Marah and her bridesmaids made their way to Pepin, working as a team (with the MAJOR help of the Maid of Honor's cousin -Mackenzie!) to get the gorgeous open-sided barn at the venue –The Hidden Meadow and Barn, set up and pretty for both the ceremony and reception. It was raining on and off this Sunday in May, but thankfully the barn at The Hidden Meadow and Barn provided protection from the elements, enclosing the barn with sturdy clear plastic shielding. The venue boasts itself to have "rustic romance" vibes, and that it did! Barn on the outside, boho chic on the inside. Absolutely dreamy.

As Jon and his groomsmen relaxed in the "Grooms Room" before getting suited up, the girls finished getting their hair and makeup done inside the "Bridal Cottage". Marah's dog Ruby, aka the "Dog of Honor" waddled her corgi butt around, in search of fallen snacks. In between belting out lyrics along with the music playing, Marah exclaimed a few times throughout the morning, "Guess what you guys?! I'm gettin' married!", followed by the bridesmaids "whoo-hooo"-ing in unison, and Ruby's little ears would perk up in curiosity. (*Note – the couple also has another dog, Goose, who wouldn't have handled the day-of activities as well – while not present, he is still equally loved.)

The groom and his groomsmen, who all happened to be his brothers, finished buttoning up their suits – a beautiful dusty gray color, a white dress shirt underneath the matching gray vests, paired with steel blue ties and pocket squares for all – except Jon, who wore satin white versions of both suit accents. Jon wore custom wooden cufflinks with "V" engraved on them with a simple accent underneath, representing the newlyweds shared last name. The guys all donned small baby pink roses in their boutonnieres. The brothers joked around with each other, all smiles as the ceremony approached.

Marah says her first impressions of Jon were, "Dear Lord those biceps, I'm giving him my phone number." But, she admitted that Jon had put her in the friend zone for a year before they started dating. "I can't pinpoint when I knew I was going to marry him. I remember thinking that even if I only got to have him in my life as a friend, I was still so lucky…I remember hoping that he'd always be in my life in some capacity" she expressed.

With the help of her bridesmaids and mother, Marah got into her stunning gown – which actually was a form fitting bodysuit with intricate lace and bead detailing throughout the top half, and the ability to utilize two skirts – one for the ceremony, another for the reception. The top part of the dress was made mostly of a delicate sheer material that lighty kissed the bride slightly off-shoulder, making it look as though the detailing on the sleeves magically floated on her body. The first skirt was a creamy light pink hue and voluminous – multiple flowing layers of the material glided down, paired with a beautiful thin beaded belt at her waist. Glimmering earrings and a necklace pulled the ensemble together effortlessly. Found at "Studio I Do" in Virginia (where the bride is originally from), Marah said that after trying on about fifteen dresses total, her and her bridal consultant both cried when she found THE dress. She wore her curly hair half pulled back, a dazzling hairpiece in the back of her hair holding her cascading sheer veil into place.

"I can't cry…my eyelashes are too expensive!", Marah exclaimed as she smiled; looking upon her reflection in the mirror after getting everything tied, buttoned and accessorized. Happy tears filled her eyes, and the makeup artist quickly gave the helpful advice of sniffing in through your nose quickly to try to subside the tears from flowing. Marah's mother and bridal party looked at her in awe, a truly elegant bride before their eyes.

Marah sat down and read a handwritten letter from Jon, eyes welling with tears, as Ruby gazed up lovingly at her human, who was soon to be wed. Tucked away in the "Grooms Room", Jon read his letter written by Marah, smiling earnestly. Guests began arriving to The Hidden Meadow and Barn and the bridal party snuck out of the Bridal Cottage and into the bathroom closer to the barn, laughing and smiling, spirits elevated in excitement.

Mackenzie orchestrated the couple's families and wedding party into the barn and down the aisle, guests faces grinning with amusement as the "Dog of Honor" trotted down the aisle alongside one of the bridesmaids. Around Ruby's neck a wooden heart hung that read, "My humans are getting married!". When Marie Kondo talks about things "sparking joy", this moment is what I will think of from now on.

As Marah appeared in the barn entrance and headed down the wedding aisle, the joy continued. Guests beamed as the stunning bride made her way to the altar, the exposed barn ceiling beams and golden chandeliers glistening above her. Marah grinned ear-to-ear, her smile lighting up the entire room. "I just looked at my dad the whole time and let him guide me forward", she reflected back. "I was afraid that the second I looked at Jon I would cry my makeup off".

One of Jon's friends from Virginia served as the couple's Officiant for the wedding ceremony, and the couple shared heartfelt vows they wrote themselves. Being in that room with them, it was so evident that they were physically there, but emotionally wrapped up in their own little world together. Stealing glimpses of each other, gratitude and wonderment authentically showing through and through. The enchantment in each other would break momentarily from time to time as Ruby very quietly barked. Later on, the bridal party laughed about how she hadn't really made a peep all day, up until that moment. Overall though, Ruby was a very well behaved Dog of Honor, and a cute one at that!

Marah and Jon were pronounced husband and wife, and shared their first kiss as a married couple, loved ones clapping and cheering. The wedding party and family members followed behind the couple, hugs being exchanged all around when they got back to the entrance of the venue. I would describe both Marah and Jon as principally cheerful people, but the moment right after the ceremony was one of the happiest I've ever seen them together – such a twinkle of glee in their eyes and in their expressions.

Post-ceremony, friends and family from near and far mingled, sharing stories of the couple and remarking on how beautiful the venue and the bride were. The newlyweds spent some time taking photos with family before chatting with their loved ones, kids running around taking pictures on the disposable cameras provided by the couple to capture candid moments.

After a delectable dinner, a few of Marah and Jon's family members took to the mic to express their love of the dou, and their appreciation of everyone coming out to celebrate the occasion. The Maid of Honor and Best Man shared their sincere reverence for Marah and Jon individually, and as a married couple. Everyone spoke to how the newlyweds compliment each other in endless ways, and how authentic and powerful their devotion and admiration towards one another are. The speech that stole the show, though, was delivered by one of Jon's best friends, Chaney, who had come all the way from Virginia for the big day.

Chaney described how he had met Jon originally through hockey in college – where they played together on the same team. He explained that he first knew Jon to be, "A kid from the Midwest who was overly nice…saying things like, "How are you?…HATED him right away!", he narrated as the crowd burst out laughing. Then, things got worse – he quickly realized, "There were TWO of them!" he exclaimed in disbelief, referring to Jon's twin brother Charles, who was also on that same hockey team. He went on to explain that the three of them became great friends over the years, even living together for some time. Chaney reminisced on a time when he, Charles, and Jon were at one of Marah's gigs to see her perform (note in the beginning of this story, when I said she does MANY things!). Marah and Jon were only friends at that point, but after they watched her sing and play guitar and interact with Jon, Charles looked at Chaney and said, "He loves that girl."

Marah says that her favorite part about the wedding day was taking a step back and seeing how blessed the couple is, "We had people from all corners of the country coming together for us; working so hard to make that day special for Jon and I. I've never felt so loved".

As far as advice for couples planning their wedding, Marah advises that you will undoubtedly hit a few snags. But if you can take anything away from this wedding story, know that you will find a solution – things will work out. The show will go on! In the big picture view, any minor "conflict" that arises in the process will most likely not ruin your big day. Having good vendors and a supportive group of friends and family surrounding you takes A LOT of weight off your shoulders, but as Marah wisely noted, "As long as your groom shows up and says, "I do", nothing else is really important."

Marah and Jon went on to enjoy their Honeymoon in Colorado Springs, Colorado, taking the opportunity to diffuse after all the hustle and bustle, and are LOVING the married life! "Jon feels like home to me and I have the honor of calling him my husband for the rest of my life. There's no better feeling", Marah expressed.
Congratulations Marah + Jon!