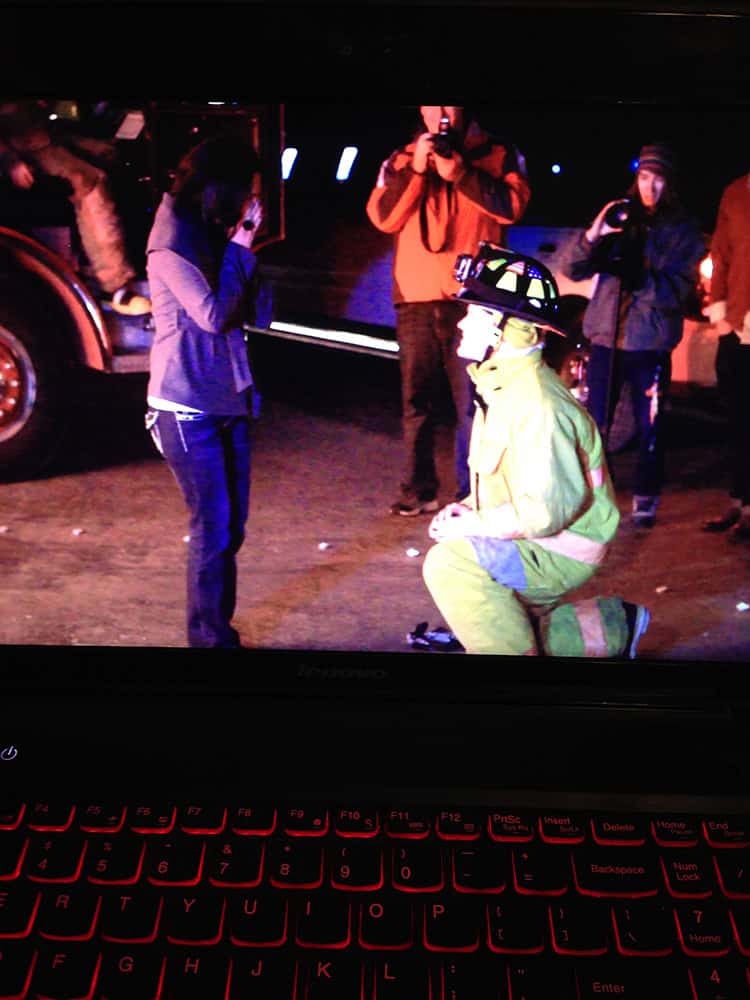 Videographers La Crosse WI {The Proposal}
I will never understand why wedding video gets picked last. Yes, I am a wedding photographer first, but I also love telling stories in a cinematic way through videos.  I love being able to travel the world and see how people act during the ceremony and how they react to the emotions that are a beautifully inevitable part of every wedding.  I am so thankful to be one of the Videographers (La Crosse WI)
The picture at the top of this blog is a great example of why a wedding video is a beneficial investment into your big day…your only day. Yes, it is a picture I took with my phone of my computer as I'm reviewing footage. I'll be recording a video and will provide links for it at a later time, but we'll use this picture for now to give you a peek into how to best cover every aspect of your special day.
This gentleman lit "Will You Marry Me" on fire in between two very loud firetrucks. The trucks had a grizzly sound that could bust a ear drum if you were too close, so let's face it, nobody could hear the words being said. Not to mention that the GoPro footage that someone else set up didn't have any low light performance, even when I set up extra lighting. I had about two days notice for shooting the photography, but I also knew that they may not remember what words were said during that moment of emotion. I scrambled a few of the groom's friends to monitor the cameras while I set up proper lighting and placed a microphone on the groom to be. This allowed us to get the footage we needed and allowed us to document not just the moment, but word for word what was said. I guarantee that if you asked any guest that helped in making this happen, they will tell you they couldn't hear anything. I was able to sit down with the soon to be wed couple about booking their wedding (woohoo!) and was able to show them this footage. Neither of them remembered the words past, "Will you marry me," and "Yes." Yes, those are the crucial words involved in that moment, but nobody just says the cookie cutter responses which are so much more meaningful than a simple, "Will you marry me," and, "Yes." I am only holding back what was said so you can hear it for yourself when I release the video.  Those are a foregone conclusion; it's the details that are truly special.
Every couple's uniqueness is what truly shapes how I shoot each wedding and the emotional impact it has on the day. No day is exactly the same. Yes, there will be cake and flowers and a bride and groom, but every part of your marriage experience, from the proposal to the reception, is uniquely you!
Am I saying you should hire Ben or Boxcar Photography? Well, yes, but in reality I'm saying that you need to hire an experienced professional. Someone whose style you like, and that you trust to proved you with a great product. Research your options. Cheaper options might seem appealing, but they rarely turn out well. However, the most expensive option is also not often the right choice. Weigh your options and choose your photographer and videographer wisely. You can never be too careful when it comes to capturing these special moments in life.