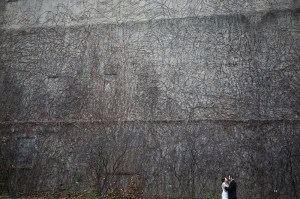 Wedding Photography La Crosse WI
Simplistic, textured backgrounds are the best. We had a few moments between the ceremony and reception which made this shot possible. I am so thankful that it was close by this wall that in the summer is completely green and the winter completely brown, and textured all the way to the top of this three story building in downtown La Crosse. This photo was on the back of the old Ross Furniture building which will be turned soon into a modern hotel. But that is besides the point. The photo is great because of the negative space that the wall filled with vines provides. This picture shows two opposing forces. We have a refined, and pure wedding against a textured, and gritty brick wall.
We continued on to the reception that took place in the La Crosse center. I'm so thankful when brides and grooms have given enough time in between the ceremony and reception to take these neat shots. I can really see this one blown up on a wall at their home really big to follow a theme or even over a fireplace! This was the last wedding I shot here in La Crosse, WI at the end of the 2012 season, I will have more to show of this wedding, until then, enjoy!